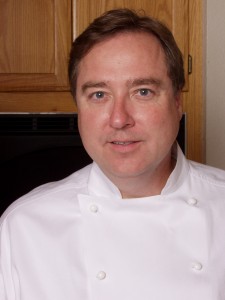 As the first in our series of a close up look at the chefs featured in World's Most Beautiful Recipes, Master Chef Robert Sturm is one of the top chefs in California and is one of the featured chefs in World's Most Beautiful Recipes, with two of his special gourmet recipes showcased. Robert has won many food design titles and awards over the years, and is also the Corporate Chef for Omni Hotels F.H.G. Worldwide and Westin Hotels and Resorts.
It's no surprise that Robert creates such amazing gourmet recipes when you consider that he has trained at some of the most well known culinary institutions, including, but not limited to La Varenne EcÔle de Cuisine in Paris, France, and the Culinary Institute of America, Hyde Park, New York.
If Robert looks familar to you, it's probably due to the fact that he has appeared on television, has been on radio, and has been written about in many publications.
You'll find two of Robert's fine gourmet recipes in World's Most Beautiful Recipes. Those recipes are Sunshine Salmon and Zesty Sea Bass.
Learn more about Chef Robert Sturm at his website robertfood.com